Tally - Fruit and Vegetable Sorting Optimizer for Continuous Control and Optimization
Learn more about the Fruit and Vegetable Sorting Optimizer Tally – BIOMETiC's Solution for optimizing the Quality, Weight, and Quantity of Fruits and Vegetables.
Tally, a single Solution for dynamic Sorting Optimization
Accurate Fruit and Vegetable Sorting Optimizer for Top-Quality Produce
Tally is BIOMETiC's fruit and vegetable sorting optimizer that guarantees the target quality, weight, and quantity of fresh fruit and vegetables. It's a single solution to enter and manage orders as well as control and automate your sorting line.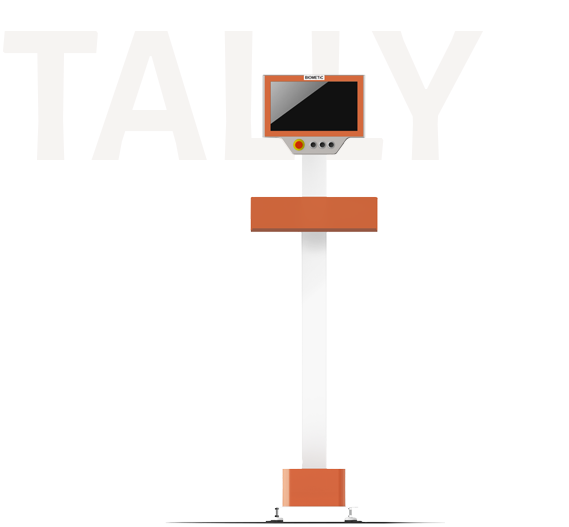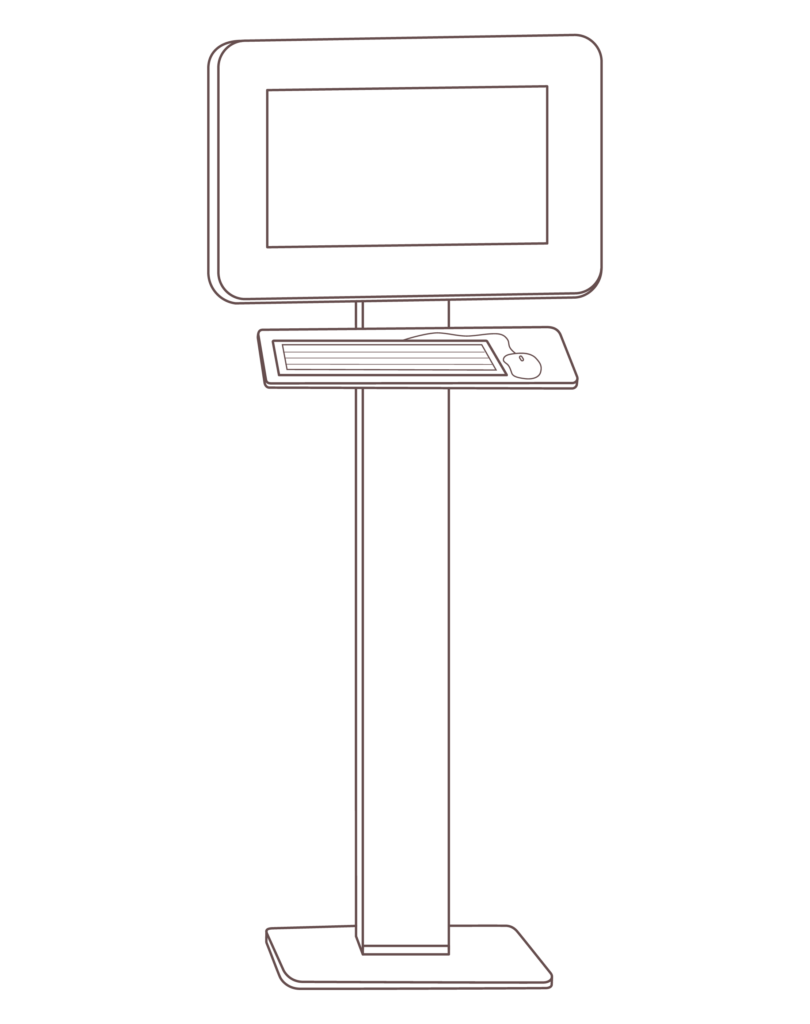 The optimal SORTING of Fruits and Vegetables
The Difference between a Conventional Sorting Optimization Solution and Tally
Tally is BIOMETiC's order entry and management solution for controlling and automating your sorting line. It
As a result, you manage your production according to real-time priorities. In fact, Tally offers dynamic bins assignment as sorting orders are entered into the system. Therefore, target quality, weight, and quantity are continuously optimized and controlled as fruit are assigned to their destination bins.
Using BIOMETiC's time-based technology, your sorting line's dynamic timing and control are centralized in a single fruit sorting optimizer. When combined with the complete traceability solution F-Trace, you constantly improve production and supply chain while ensuring fresh produce of the highest quality.
The SORTING Optimizer for Fruit and Vegetable
Precise and Safe Sorting Management for High-Quality Fruits and Vegetables
Tally ensures that every fruit arrives at the right destination, optimizing the sorting process and managing orders in real-time. It ensures continuous optimization, dynamic timing, and control of your sorting line. Thus, it leads to immediate cost savings and added value.
Tally's unique feature lies in its complete process control with managing multiple sorting lines, outlets, and packing stations. In fact, it evaluates the information transmitted by the optical sorter Q Eye Smart on weight, size, volume, shape, and color of individual fruit and vegetables.
TALLY IN YOUR PRODUCTION LINE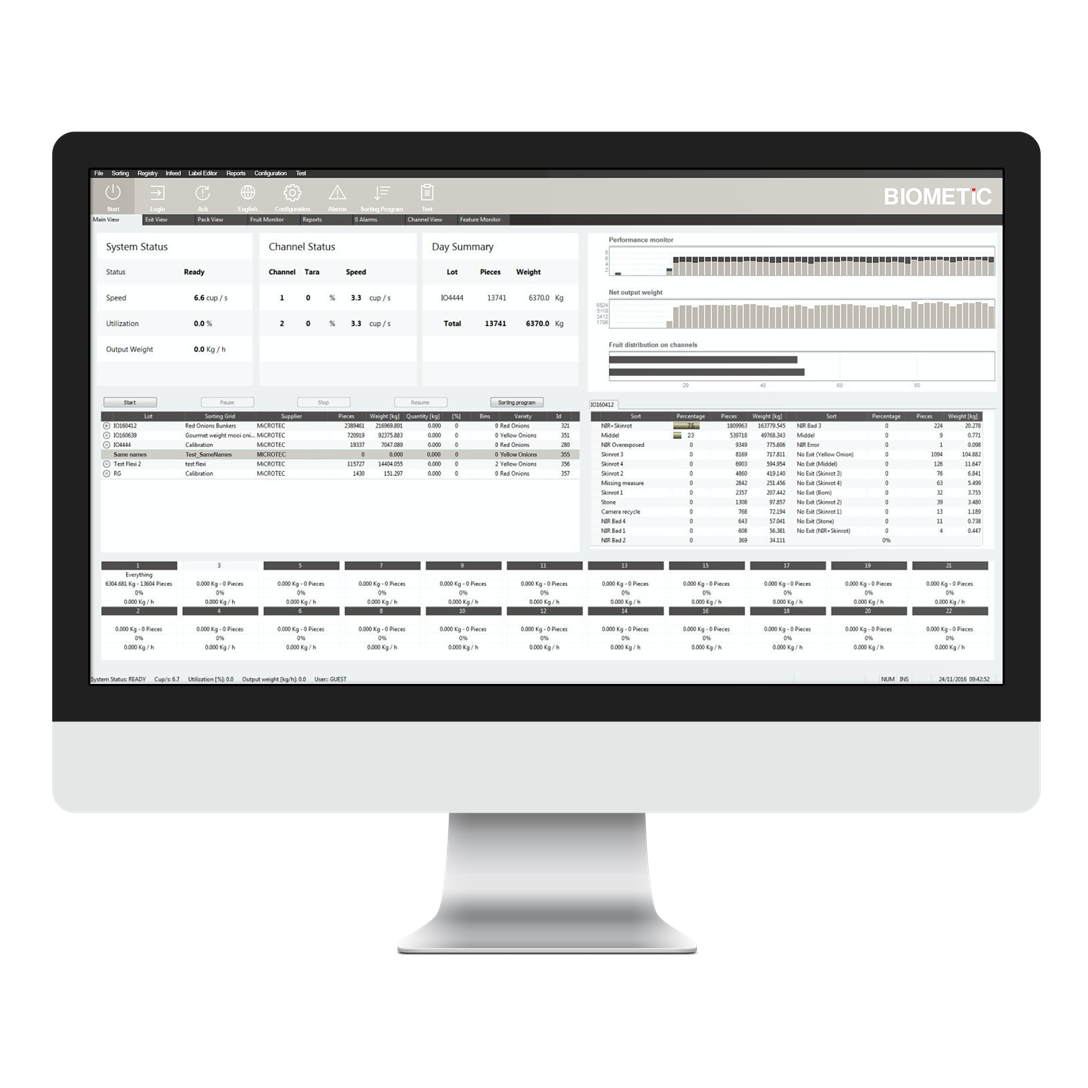 Dynamic SORTING and Process Optimization of Fruit and Vegetable
Why our Customers choose Tally
Integratable in the lines of any fruit and vegetable cooperative, the sorting optimizer Tally guarantees an optimal sorting of your produce. Your cooperative can thus optimize the entire production process and achieve the highest fruit quality while safeguarding your brand reputation. That is why our customers have come to rely on Tally:
Increases produce quality
The great advantage of Tally is that it collects all the information about each fruit to forward each one to its appropriate destination. The information provided by BIOMETiC's smart optical sorter Q Eye Smart is evaluated as well as information on weight, size, volume, shape, and color. The production is so managed according to real-time priorities.
Adaptable to your produce and needs
Tally grows with the needs of your company. This BIOMETiC solution allows you to process and synchronize incoming order data in order to automate and control your production processes and fully control the management processes of your selection lines. That is why several cooperatives have Tally in their sorting lines, for whom it is a primary objective to ensure top quality produce to the international market.
Delivers substantial savings
Together with the processing and synchronization of incoming order data, Tally generates greater efficiency in the selection process, resulting in savings in time, resources, and costs and increased food transparency.
Protects brand reputation and optimizes production
Tally can achieve these results as a single system. But by integrating it with the complete F-Trace solution, the fruit and vegetable cooperative can optimize the entire production flow and achieve maximum production efficiency across the whole line. By centralizing and evaluating all of your fruit and vegetable information (weight, size, volume, shape, and color), Tally monitors and optimizes your production processes.
Simple and intuitive to use
Tally is easily integrated into any existing sorting line and, with access to the software interface from a mobile device, provides fast, intuitive, and immediate operator operation. Training is given at the time of system installation. Should training be required for other operators at a later date, an extra training package can be added to Tally at any time.
Automates your sorting line while minimizing human errors
To optimize data effectiveness and efficiency in the event of any recalls related to fruit and vegetable quality, companies rely on the sorting optimizator Tally combined with BIOMETiC's traceability solution F-Trace. The speed and accuracy in optimizing fruit and vegetable quality reduce time, costs, and errors in a non-digitized system.
In-line food inspection and control with innovative technologies
BIOMETiC Products integrable into your Production Line
Do not hesitate to contact us
We are at your complete disposal. We would be happy to provide you with our know-how and free consulting services to select the best BIOMETiC solution for your food inspection and fruit sorting needs.
Contact us now, and let's discuss how we can make your food products and fresh produce better and more secure than ever before.