Mito - 3D X-ray Inspection System for Food Safety and Quality
The Solution to ensure Complete Food Safety and Quality.
Mito, the only 3D X-ray food inspection system on the market
The Effective Solution for Safe Food of Highest Quality
People working in the complex chain of food production, processing, and distribution must ensure safe and high-quality products to prevent risks to consumers. This is done in compliance with industry regulations and standards, following the general principles of food legislation, such as guaranteeing controls along the food chain and ensuring food traceability. To do this, food manufacturers incorporate an in-line inspection device, such as a metal detector or an X-ray scanner, in their production lines.
But a metal detector does not detect non-metallic contaminants. And a conventional X-ray device with 2D technology does not guarantee sufficient reliability and accuracy in detecting foreign bodies that occur at an unfavorable angle to the X-ray source. We at Biometic have always invested in research and development to find the best solutions for the needs of the food industry. This is why we developed Mito, the only X-ray system with 3D reconstruction technology. A single solution to verify the safety and quality of food adaptable to all food industry sectors and customizable according to the company's needs.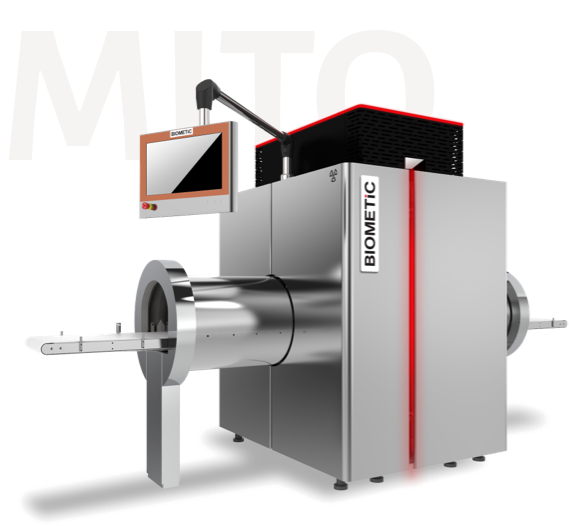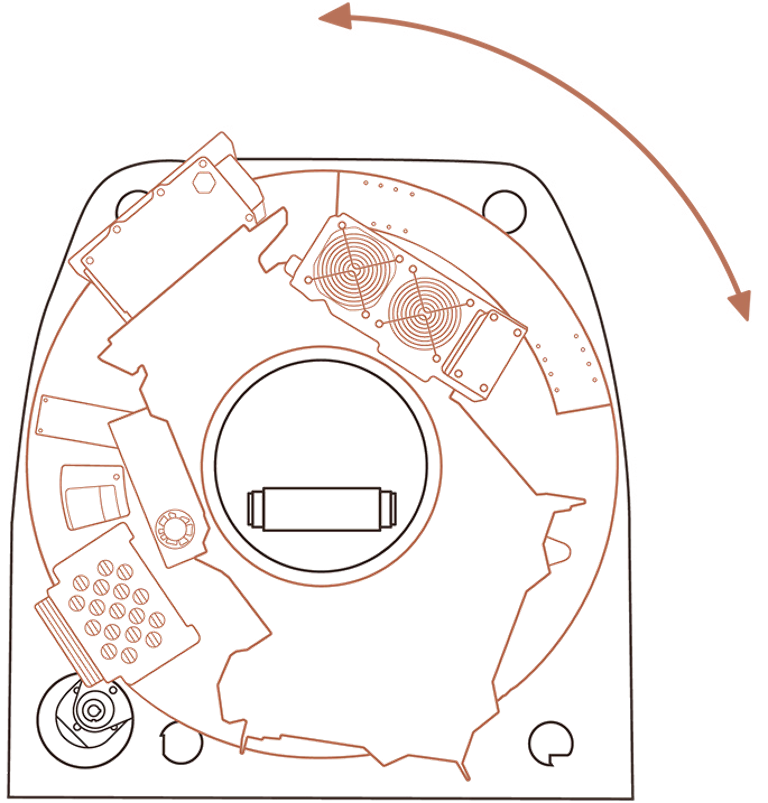 X-ray food inspection with 3D technology by Biometic
The Difference between a Conventional X-ray Device and Mito
Mito is the first and only X-ray inspection system with 3D reconstruction technology on the market – a computed tomograph that scans food in-line in the shortest possible time. This 3D X-ray inspections system is Biometic's answer to food quality and safety issues of the food industry, from simple foreign body detection in food to real-time food quality control of products and packaging. With Mito in your line, you can be sure to optimize production, reduce complaints, eliminate waste and avoid financial losses while protecting the health of your consumers.
Compared to a conventional X-ray inspection solution, Mito's patented computed tomography technology offers a significant advantage in executing in-line food safety and quality checks with fewer errors and waste. Its 360-degree 3D X-ray scanning technology is complemented by dedicated algorithms using artificial intelligence to capture and recreate in detail the shape and internal and external quality characteristics of products and their packaging.
Mito's rotating X-ray source performs, with a belt feed speed of 40 m/min, up to 2 rotations around a single inspected product. It thus acquires up to 400 internal images per product exploiting all three dimensions (length, width, and depth) with a scanning resolution of 0.5 mm. The scanned product remains unaltered because the data are acquired through non-destructive analysis.
Food control and inspection at 360 degrees for quality in the smallest details
Possible Applications in the Food Industry
Each food, like each sector of the food industry, has its own specific characteristics. That's why the real added value of Mito, an in-line 3D X-ray inspection system, is the fact that it is versatile and customizable. Thanks to its sophisticated self-reconstruction software, food manufacturers can perform scanning and processing at very high speed and high definition.
Using mathematical algorithms, adaptable according to the product to be scanned and the problem to be detected, Mito verifies and detects any foreign bodies or food quality defects.
Mito in your production line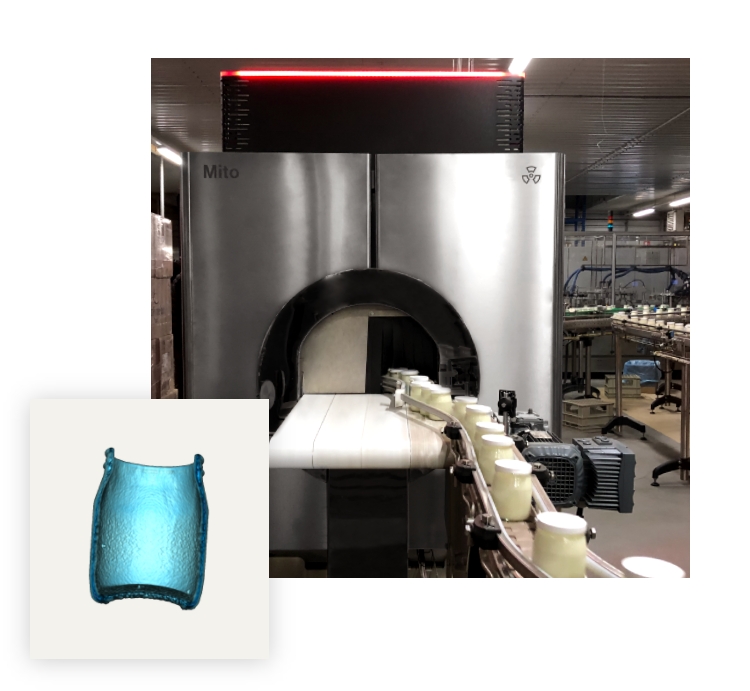 3D X-ray inspection system for the food industry
Born from Biometic's more than 40 years of experience in building in-line inspection systems, Mito is a 3D X-ray inspection device specifically designed for the food industry and its needs – from protecting brand reputation to eliminating waste for optimized production. 
Here are some examples of problems Mito has solved for different food industries: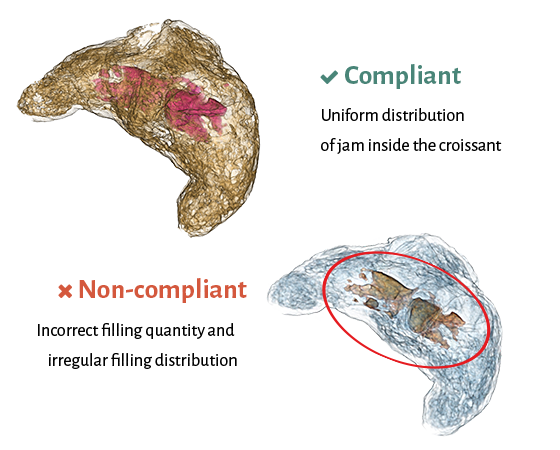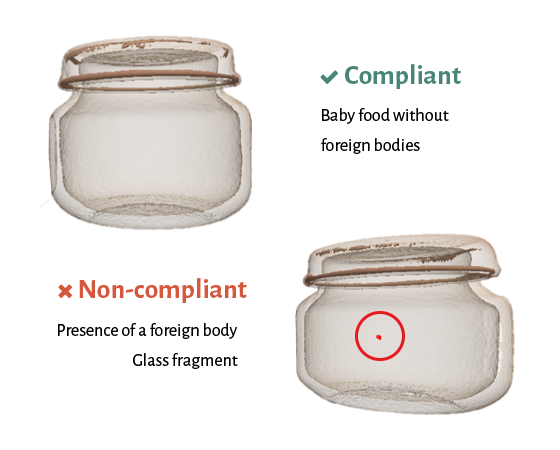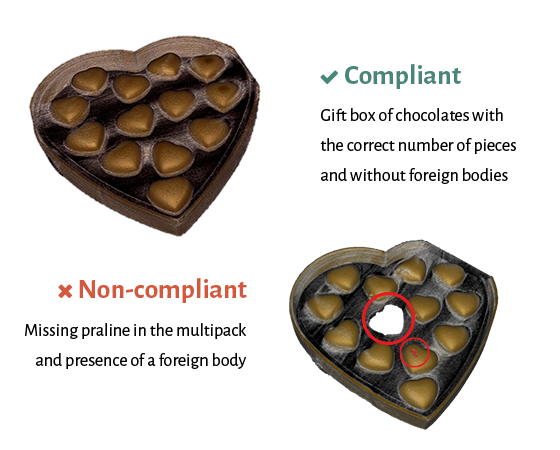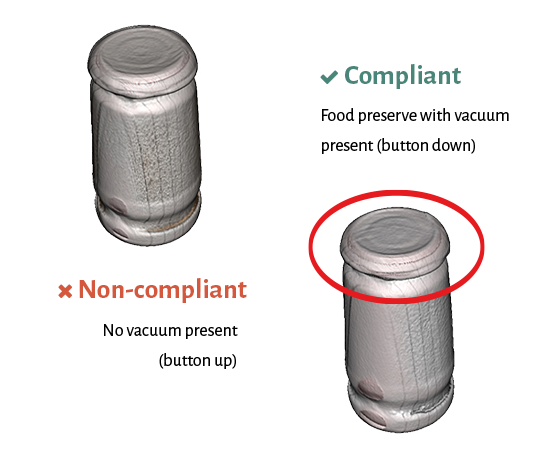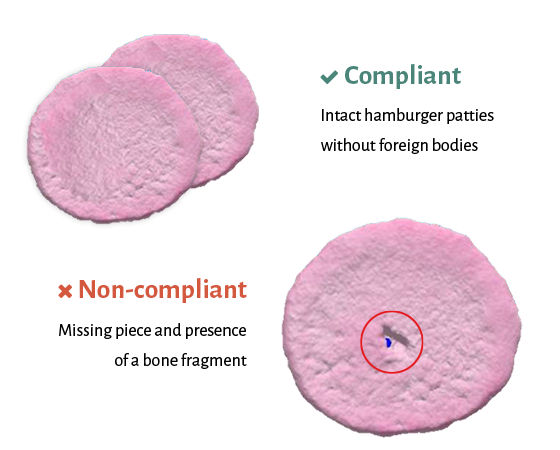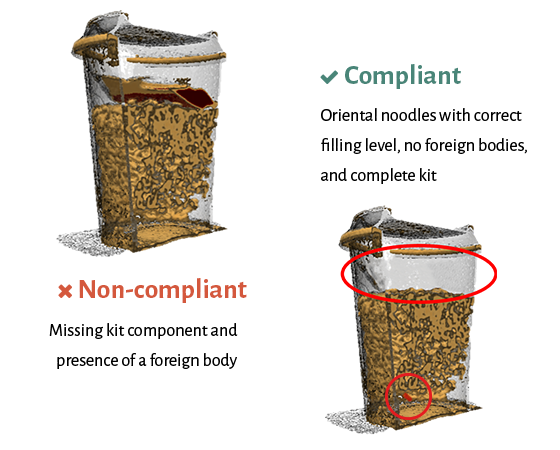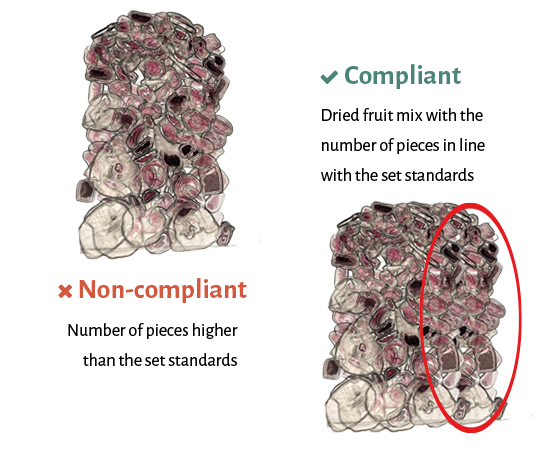 The best solution for in-line product inspection
Why our Customers choose Mito
We know that every industry and every company is unique and has different needs. For this reason, Biometic's real added value lies in adapting solutions to the specific inspection needs of food manufacturers with multiple possibilities for food safety and quality inspections.
That's why our customers have come to rely on Mito's technology:
Increases product safety and quality
Compared to a conventional X-ray inspection solution, Mito's significant advantage is that it provides stricter food safety and quality controls with fewer errors and waste by adapting mathematical algorithms based on the scanned product. It evaluates punctual density, not just average density, identifying defective, damaged, or deformed packages and products.
Adaptable to the products and the needs of the manufacturer
Mito grows with the needs of the company. It can be adapted to each type of product to be analyzed and to your every need as a food manufacturer.
Ensures significant savings
With Mito, you can calculate the exact quantities of raw materials to be used to optimize savings. As long as the right amount of product in a package and/or processing materials (such as the amount of filling in a croissant or the filling level of yogurt) is ensured in the production process, this translates into significant savings.
Protects brand reputation and optimizes production
Mito can achieve these results as a single system. But by integrating it with the comprehensive food traceability solution F-Trace, the manufacturer can optimize the entire production flow and achieve maximum production efficiency across the whole line.
Verifies food with high-resolution images in total safety
To obtain better images, Mito uses a more powerful X-ray source than conventional X-ray inspection systems. Still, the radiation to which an operator is exposed, even if they were working 8 hours a day in close contact with Mito, is below the international limit for annual radiation exposure set at 1 mSv per year (mSv/y) by the International Commission on Radiological Protection (ICRP).
Simple and intuitive to use
Mito does not require calibration. It is easily integrated into any production line and has a user-friendly interface that makes its operation faster and more intuitive for the operator. Training is given when the machine is installed. In case, later on, training is needed for other operators, an extra training package on Mito can be added at any time.
It can be used in any industrial production line
Mito can be Installed and operated in an existing industrial production line of any food industry. It is equipped with an internal sealed shielding for X-rays that guarantees total safety in the use of the system by the operators.
In-line food inspection and control with innovative technologies
Biometic Products integrable into your Production Line
We are here at your Disposal
To ensure the high quality of your products and our services, we provide you with our company know-how and our free consulting services to choose together the best Biometic solution for your food inspection needs.
Contact us now with no obligation and find out how we can help you to grow your business.