From Jars with Glass Fragments on the Bottom to Filling Detection
By applying over 40 years of experience in in-line, high-speed scanning of biometric products, BIOMETiC has developed Mito, the unique in-line X-ray inspection system with 3D-reconstruction technology.
BIOMETiC Mito is the only scanner on the market for the food industry that uses computed tomography technology to provide a complete digital reconstruction of the internal and external characteristics of food.
It enables food manufacturers to get extraordinary results in the field of food safety, e.g., in the cannery and bottling sectors. This, by providing the highest accuracy in the market for glass-in-glass detection – both at the bottom and side of the jars.
Glass containers are, in fact, among the most challenging packages to inspect. The peculiarity and delicacy of the package itself mean that, due to manufacturing defects or bumps between individual jars, the main contaminant found in jars is glass, the same material from which the containers are made.
The glass fragments, dangerous foreign bodies, thus have the same density as the packaging, which makes detection difficult – a common problem known not only to manufacturers in the cannery and bottling sectors but also, e.g., to those in the dairy industry.
The cause of detection problems is that the fragments have the same density as the package itself. And glass containers used in the food industry usually have a thicker base, sidewalls, and necks that can cause obscuration of the field of view. Thus, hazardous contaminants and glass fragments can easily "hide" from the X-ray view of classical 2D food inspection systems.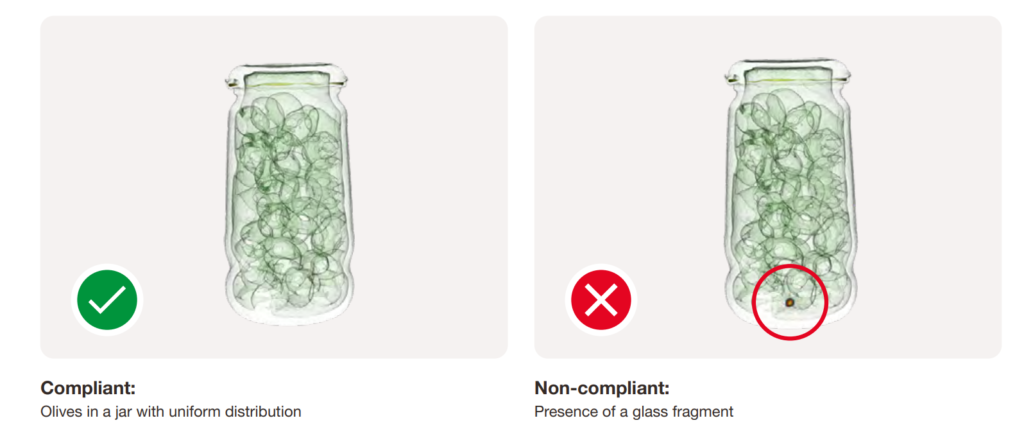 Thanks to the real 360° 3D reconstruction, Mito evaluates punctual density, as opposed to the average density, identifying "glass in glass" regardless of the orientation and position of the foreign body. Food Quality Algorithms, such as filling level and vacuum, can be evaluated simultaneously with the food safety inspection process.
All the results and statistics can be integrated into your Quality System Management to achieve full traceability while optimizing the production processes.