Delivering Safe and Top-Quality Products
According to BAKERpedia, in an ideal world, when it comes down to determining how well the final baked products meet customer quality expectations, bakery manufacturers would make each product with exactly the same quality characteristics to consistently deliver delicious and nutritious baked goods to their customers. And this would satisfy customers 100% of the time.
However, in the real world, bakers know that their products will have some variations in the production process. And naturally, the question of how to guarantee consistent food safety and quality arises here.
Challenges in Food Safety and Quality Controls for Bakery Manufacturers
As with all things in food manufacturing, you can only control what you detect and measure.
This is why quality controls are an essential part of food safety and quality management systems. In this way, bakery managers and plant staff should be able to detect and measure variations and have expert control over them so that the consumers do not notice variations in product quality.
But, as we know, measuring the final food product quality poses significant challenges. In fact, traditional sensory evaluation of bread relies on manual controls, which are time-consuming, expensive, and have a subjective scoring nature.
This is why large industrial bakeries began to rely on detection methods and inspection systems to prevent quality defects in food processing and assess the quality characteristics of their baked products. And as the qualitative, textural, and sensory properties of yeast- and chemically-leavened products are defined by the crumb structure, one of the solutions bakery manufacturers often count on are, e.g., labor analyzers that perform crumb analysis of sliced surface areas of baked product samples.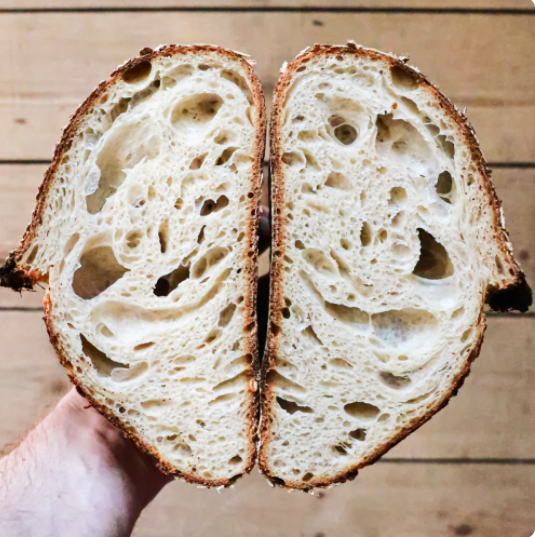 However, it might go without saying that sample analyses, which are not performed in-line, are often not reliable enough to guarantee baked products with consistent quality characteristics. Adding to this, bakery manufacturers need, besides in-line quality controls, also solutions to prevent foreign materials in food processing.
Luckily, as also Sherry Williamson, MBA – vice president of global quality and food safety at the Kellogg Company – states in her article "Is Zero Foreign Material Possible in Food Processing?" guaranteeing complete food safety to the consumers and protecting the brand reputation is possible with the help of in-line detection methods and systems. If leveraged correctly, such detection systems can significantly impact an organization's journey to zero foreign material.
And this is when Mito, BIOMETiC's 3D X-ray inspection system for the food industries, comes into play.
How we help you guarantee Safe and High-Quality Bakery and Baked Products with Mito, the In-line 3D X-ray Inspection System
At BIOMETiC, we have always invested in research and development to find the best solutions that meet the needs of the food industry. And this is why we have developed Mito, the first and only in-line 3D X-ray inspection system for the food industries that guarantees a complete product inspection and is already successfully implemented, e.g., at Latteria Vipiteno.
Compared to conventional inspection methods and systems, Mito combines X-rays technology with computed tomography (CT) and artificial intelligence (AI). These technologies allow capturing the shape and characteristics of the scanned food products in detail to recreate a 3D reconstruction of the object in-line at production speed.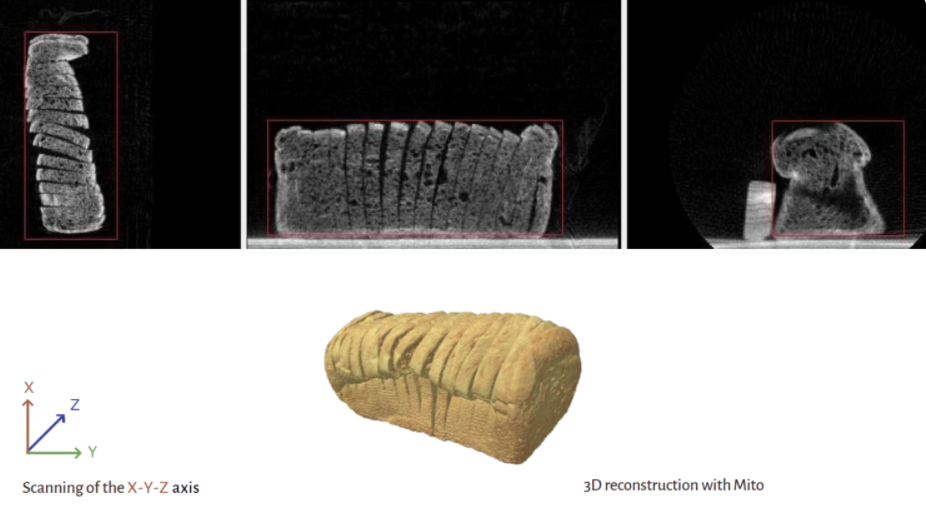 Mito's in-line 3D X-ray scanning technology thus translates into more precise and strict in-line inspection controls with fewer errors and waste than traditional inspection systems. This is by locating both foreign bodies and verifying the products' internal and external quality characteristics through non-destructive analysis.
In fact, Mito's various and effective food safety and quality checks can be adapted to the manufacturer's existing or new inspection needs. Its real-time 3D scanning technology allows bakery manufacturers to guarantee safe, foreign body-free baked goods and high-quality food products to customers and consumers.
How we make baked products safe and of high quality
Thanks to real-time 3D scanning technology, Mito allows you to guarantee to your customers,
foreign body-free baked goods but also high-quality food products:
Identification and expulsion of products with internal quality defects
Controlling the balanced distribution of ingredients to ensure a uniform product
Control of the dosage of the products to avoid waste and guarantee a first-quality product
Analysis of product surfaces to expel foods with damaged or missing areas
Recognition of foreign bodies, such as glass and metal fragments as well as dough clumps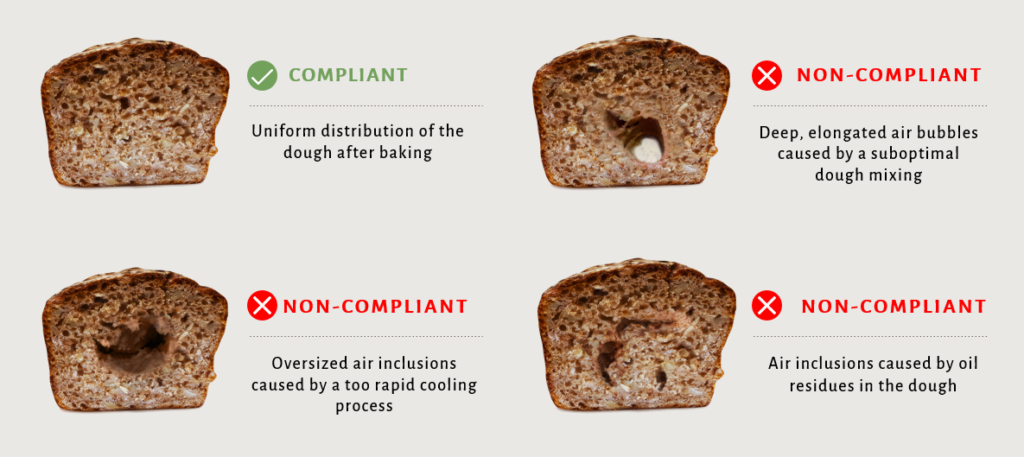 About BIOMETiC
BIOMETiC emerges as the food spin-off of MiCROTEC, the technology leader in measurement systems and automated processes for the wood industry. Benefiting from over 40 years of MiCROTEC's experience and know-how, we have adapted the technologies to develop in-line food scanning solutions and optimize processes.
BIOMETiC innovative in-line quality scanning solutions and systems are customizable. They can be adapted to the food industry's wide range of food safety and quality needs: from bakery products to glass-in-glass applications.
Our technology and experience enable so innovative and sustainable food safety and quality scanning solutions, backed up by our 24/7 customer support and after-sales services.