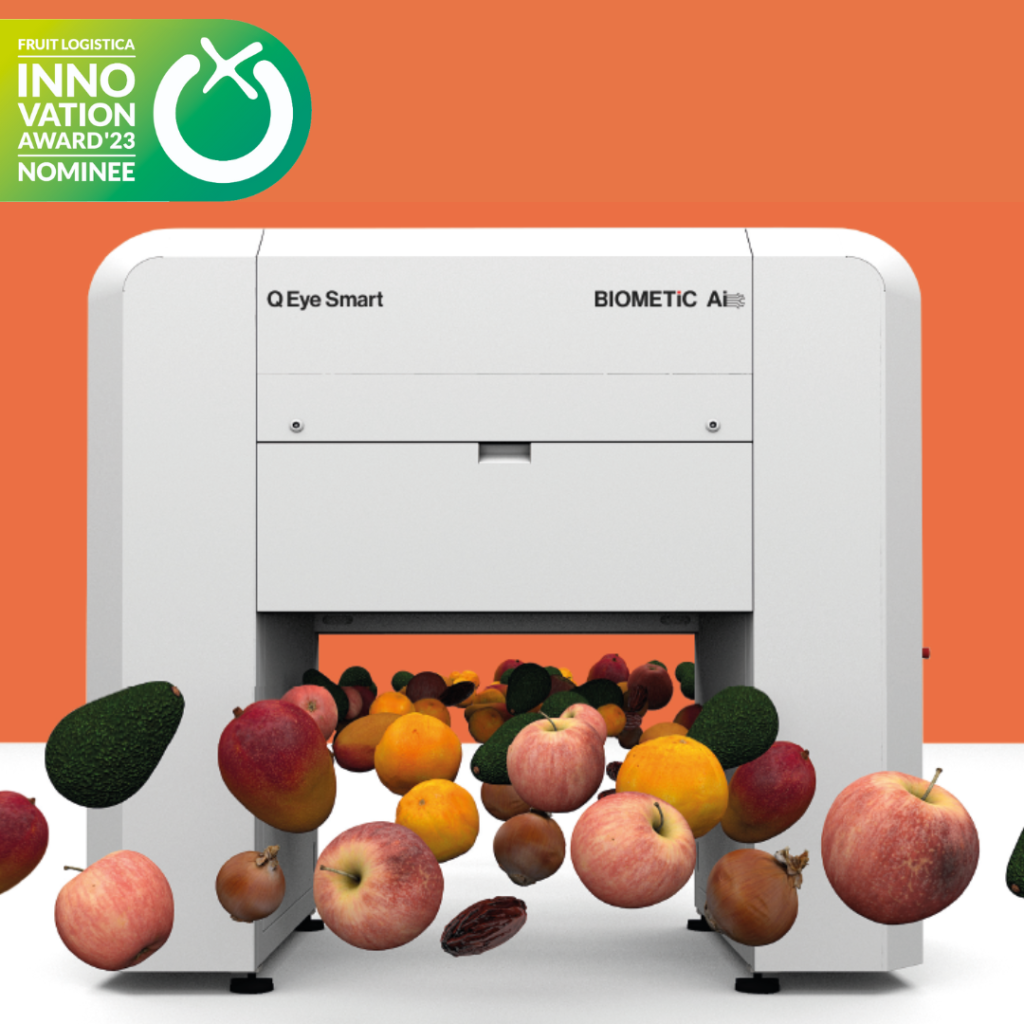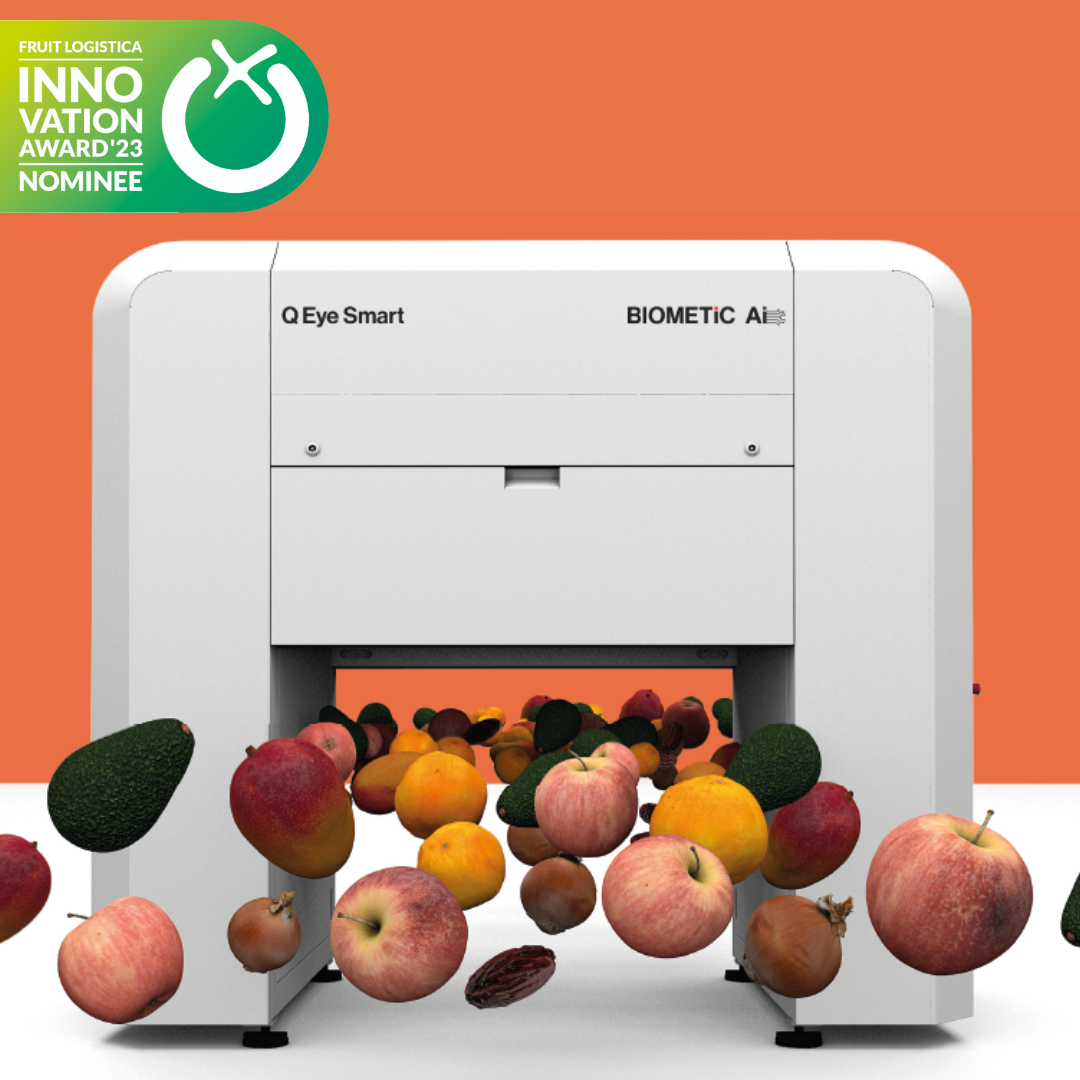 BIOMETiC GREEN ARTIFICIAL INTELLIGENCE TECHNOLOGY ELEVATES PRODUCE QUALITY, REDUCES WASTE, AND MINIMIZES PRODUCTION COSTS
Artificial intelligence goes green with solutions and applications of BIOMETiC. An innovative sorting that reduces waste, saves resources, and wins producers' trust thanks to the guarantee of high-quality produce.
Q Eye Smart is the scanner presented at Fruit Logistica, the world's most important fruit and vegetable fair. It is the only scanner on the market entirely based on Artificial Intelligence (BIOMETiC Ai). It demonstrates the company's ability to offer innovative and high-quality solutions, certified by its Fruit Logistica Innovation Award nomination.
Q Eye Smart adapts to the particular needs of the customer, who, thanks to the artificial intelligence platform "BIOMETiC Ai", can customize the machine. This is by creating a database in which the different types and varieties of fruits or vegetables processed in the packinghouse and the expected quality are stored. An intelligent and flexible device that selects in real-time and responds with speed to the needs expressed by the market.
A STRONG FOCUS ON EXPORT-ORIENTED MARKETS
Q Eye Smart identifies fruit defects with the highest precision and even in the most complex areas, such as in the calyx and peduncle. This identifies all external quality criticalities in fruits and vegetables: from apples to the most exotic fruits, from citrus and avocados to onions and dates. But the list could go on.
As Camilla Lolli, BIOMETiC's Communications and Events Manager, explains, "We think in particular of those markets where there are customers with a strong export orientation and a very high demand for quality. With all customers, we identify quality classes for a customized sorting process that is continuously optimized thanks to artificial intelligence."
The analysis considers several parameters. "Not only quality defects such as cuts and mechanical damage, but also quality characteristics such as shape, color, and weight. When new requirements emerge during the season, we can implement new sorting functions. In this way, we teach the machine to recognize the given data in an extremely short time." A nearly real-time intervention that also meets the needs "of resource-saving and optimal waste management from a sustainable perspective."
Q Eye Smart, like other BIOMETiC solutions, allows either manual operator intervention once the problem fruit is identified or a robotic application.
FROM EXTERNAL TO INTERNAL QUALITY CONTROL WITH Q EYE SPECTRO AND Q EYE XP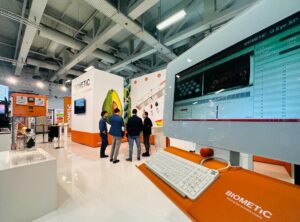 Another recently implemented solution is Q Eye Spectro, which relies on hyperspectral and spectroscopy to see inside the product.
"We are able to check for internal defects such as rot, browning, or dry matter through nondestructive analysis. Fresh produce can look good on the outside, only to find that it has internal defects when cut. An application we are using mostly on onions, avocados, and dates and in which we are expanding."
Another machine is the X-ray-based Q Eye XP. "One possible application is on pomegranates, which sees internal quality defects such as Alternaria, also known as black heart, from outside invisible."
THE COMPLETE SOLUTION FOR THE ENTIRE PRODUCTION
BIOMETiC is the right partner not only for sorting needs, thanks to Q Eye Smart, but also for fruit and vegetable traceability needs. In this regard, F Trace is a modular software solution that traces fruit from the producer to the end consumer, enabling a comprehensive view and management of production.
F Trace consists of several modules customized to the customer's production structure. Each software module communicates with machines on the production line through shared communication protocols. In this way, the manufacturer can not only ensure compliance with traceability regulations but also monitor and optimize the production flow.
The benefits of this tool are many. These include downtime analysis, waste reduction, and more efficient distribution of people in manual packaging.