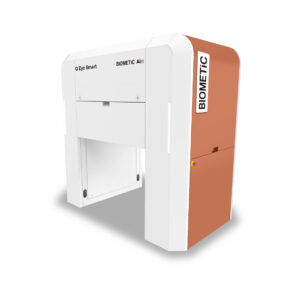 OPTIMIZING YOUR FRUIT QUALITY CONTROL? ALL A MATTER OF NEURAL NETWORKS
What is the first image that comes to your mind when you think of artificial intelligence (AI)?
Probably a robot with human features that behaves almost like a human. But in reality, artificial intelligence is much more than that.
Today we are surrounded by artificial intelligence, even if we do not always realize it: From smart devices that are activated by voice commands ("Hey Siri!") to many of the applications we have installed on our cell phones. It is nothing but artificial intelligence.
The boom in artificial intelligence nowadays is basically due to the need to handle complex operations and calculations by processing a large number of data and information with the guarantee of highly accurate results.
We at BIOMETiC asked ourselves how, through AI technology, we could guarantee our customers a continuously optimized sorting process of their produce.
And so we developed BIOMETiC Q Eye Smart.
WHAT ADVANTAGES DOES THE ARTIFICIAL INTELLIGENCE OF BIOMETiC Q EYE SMART GIVE ME?
The BIOMETiC Ai platform of Q Eye Smart has extremely high computing power. It can solve complex fruit quality problems in line and real-time to ensure you consistent and continuously optimized high-quality sorting.
This, is regardless of the produce and variety you process.
The precision with which Q Eye Smart detects quality features is possible thanks to our team of engineers. Day by day, they expand the data set available to the smart optical sorting machine. This is by teaching Q Eye Smart to recognize even the most difficult defects with extremely high accuracy.
If you are wondering whether you can get the same results with other optical sorting machines on the market with normal algorithms, the answer is no.
This is because every manufacturer knows that some fruit defects are difficult, almost impossible, to recognize. However, through the application of BIOMETiC Ai, they can be identified and classified while minimizing the waste of resources.
BUT WHAT IS ARTIFICIAL INTELLIGENCE? AND HOW IS IT APPLIED TO BIOMETiC'S Q EYE SMART?
Artificial Intelligence is certainly a very complex issue to explain. In simple words, we can say that artificial intelligence is a constellation of many different technologies working together to enable machines to sense, comprehend, act, and learn with human-like levels of intelligence.
Q Eye Smart uses artificial intelligence (BIOMETiC Ai) to decide the fruits and vegetables you process. It identifies and classifies any defects in your fresh produce with incomparable accuracy. This while still allowing you to define the quality you want to produce.
For example, you can define that Q Eye Smart classifies avocados of Hass variety with a slight corkiness defect ≤ 2% of the total surface area in quality class 1. This is on the basis of a physical example and storing a dataset consisting of hundreds of images of your products with this defect. Through this "training," Q Eye Smart recognizes the fruit and consequently its variety, size, and quality characteristics.
BIOMETiC's innovative optical sorter ensures you a real-time, continuously optimized quality selection of your produce.